Endless Combinations 2004
A PatternReview.com Contest!
Basically for this contest you make an item and the second item you make has to go with the first. The third item has to go with either of the first two and so on. Obviously it gets easier the more you make as you have more options.

My Totals
Items: 1
Yardage sewn: 2.875

Details:

Item 1: McCall's 2760
Finished: 04/10/04
I actually made this skirt to go with Simplicity 5683. But I didn't join the contest until after I made the top so it doesn't really count.

Items Planned:

Simplicity 5683: Tops
Fabric: 100% Cotton Daisy Print. It will go with Item #1 so I would have two tops that will go with that skirt. I am also doing that top again to solve a few fitting issues I have. I want to make an adjustment for a larger bust as I need that and also adjust to fix the binding armscye.
I might do View E as well.
McCall's 2791: Pants
Fabric: 100% cotton solid. I want to make View D in black and View F in Pink. Both pants would go with the Daisy top or the white top above. The white top is not entered in the contest.
If this pattern works out I might make a couple of View A too.
McCall's 4087: Broomstick Skirt
Fabric: 100% cotton Batik in Blue I want to make View A.
Simplicity 5593: Wardrobe
I want to make View A, the top to go with something above.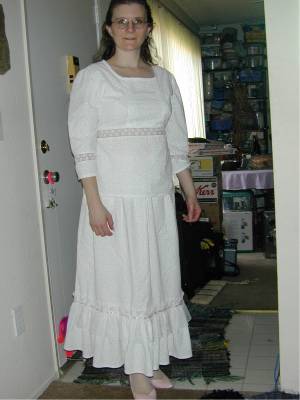 Here I am wearing the McCall's 2760 Skirt with the Simplicity 5683.
I am sort of 'into' this white on white print.