Creative Thimble- Professional Tote
Date started: 08/08
Date finished: 10/08
Project for: Me (Jo)

I saw a review for this pattern on Pattern Review and I LOVED it. I thought this would solve one of my problems. I have been looking for a nice bag to take into San Francisco on my day trips there- I needed a tote to carry my laptop and everything I need/want for the day so I don't have to carry a laptop bag and a purse. I also wanted this to slide onto the telescoping handle of Toby's Rolling Pet Carrier that he is in when we are on BART. This seemed like something that would work!

View: Only one view

Size: Only one size

Adjustments/Changes: I made a few changes to this and wish I had made one more. here is my list:
I added a masonite board in the bottom to give it some support in holding my laptop safely.
I used eyelets instead of the buttonhole called for on the side pockets.
I added "feet" on the bottom to help prevent wear on the tote bottom. I didn't have official purse feet so I used two buttons that I hand sewed on the bottom.
I embellished the front with dragonfly beads, in two different sizes.
The change I wish I had made: I wish I had added velcro on the underside of the travel strap to keep it out of the way when not in use. There is velcro on the underside of the travel straps on my laptop bags and it is nice to have it there.


Fabric: 100% cotton or a cotton/poly blend. I am not sure because 100% of the fabric for this project came from my stash so this was a stash busting project!

Notes:
I love the way it came out! I have not yet used it but will update when I do.
I used mostly my heavy duty machine, the White 1766, on this bag.

My goal list: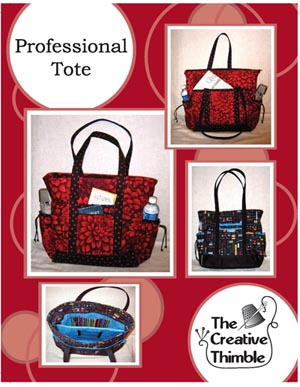 This is the pattern that I used. I bought it from Creative Thimble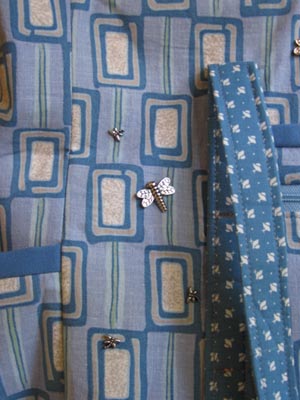 Close-up of my dragonfly beads. I hand sewed these on. I think it was worth it!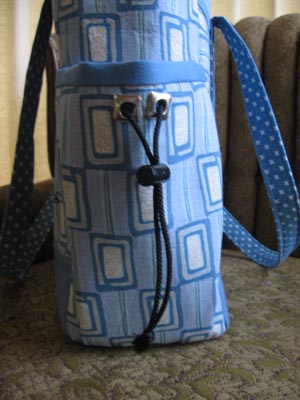 Side view, showing my eyelets that I used instead of the buttonhole called for in the pattern.