McCall's 2760
Date started: 04/09/04
Date finished: 04/10/04
Project for: Me (Jo)


View: I planned to make View D but didn't have enough fabric so I am not sure what happened there. I decided to make View C instead.

Size: MD

Pattern Notes: This is a very easy pattern!

Adjustments/Changes: I could not find the type of lace they called for so I got some pre-gathered lace instead and laced some light pink ribbon through it. I was worried about the ribbon curling or pulling through or flipping to the wrong side so I tacked it down every fourth "tuck". I had to shorten the skirt- I took off 5" from the length and I am very pleased with the finished length.

Fabric: 100% cotton white on white print with Lace and ribbon.

Notes:
I love the way this skirt turned out! I made this to go with this top.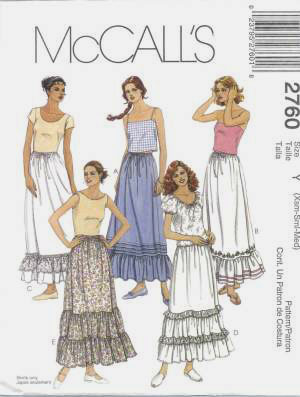 This is the pattern that I used.