Simplicity 5558
Date started: 07/04
Date finished: 07/18/04
Project for: Me (Jo)

View: Made View B.

Size: 12

Adjustments/Changes: I made view B with the Bodice of View D without the optional tie.

Fabric: 100% cotton print. Pink flowers.

Notes:
I am very happy with the way this dress turned out. I am currently making a hat to go with it!


My goal list: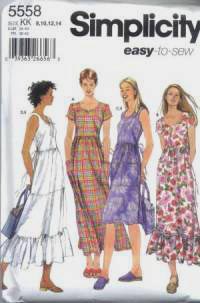 This is the pattern that I used.