Simplicity 5683
Date started: 03/19/04
Date finished: 03/27/04

Project for: Me (Jo)

View: A

Size: 14

Adjustments/Changes: Omitted the neck facing- finished with bias tape instead. I made my own bias tape (1/2 fold over bias tape) out of the same fabric that the shirt was made out of.

Fabric: 100% cotton white on white print. Lace.

Pattern Notes:
I would not recommend this pattern for a complete beginner- there were no instructions for setting in the sleeves! Also the picture for View A shows lace trim around the hemlines- both on the sleeves and bottom hem of the top- but the instructions never mentioned it. I didn't notice it until it was too late to put it in as I would have put it in before sewing up the side seams so the lace would be neatly tucked in rather than having a bulky spot where the lace met.
Notes:
Armscye was a bit binding- description and solution can be found here:
Fine Tuning Armhole Fit

I want to make another like it and practice fixing this problem. I especially want to fit the paper pattern to see if I can find out if a pattern will have this problem BEFORE I sew it up.


My goal list:
Learn to recognize the armscye fitting problem before I sew a garment.
Learn to fix it before cutting.
My second top from this pattern.
Adjustments/Changes: I omitted the neck facing again and made bias tape from leftover fabric. I also adjusted the armscye a bit but it didn't fix the problem- I don't consider this top 'unwearable' and I am pleased with it overall despite the fact that the armscye problem is not fixed. I made View A again but omitted all the lace and added the side slits.

Fabric: 100% Cotton- light pink with a daisy print.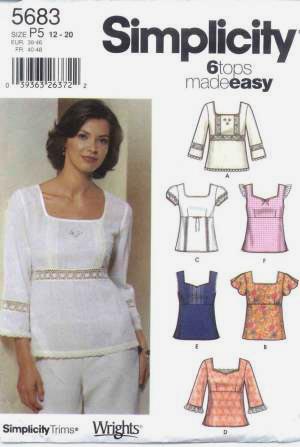 This is the pattern that I used.