Simplicity 8678
Date started:
Date finished: I made the He-man vest quite a while ago. The penguin vest I made in 1999.

Project for: He-man Vest for me. Penguin vest for Jason.

Size: Both SM

Adjustments/Changes: None.

Fabric:
He-man Vest: Fabric for front and lining came from a thrift shop in UT. I think the front was from a sheet- but it had already been cut up. I had no idea it was He-man but I liked it because it looked 'fun' so I got it and the lining fabric. Not sure of fiber content on either but both pieces cost me $3 total. Penguin Vest: Fabric for front was from the discount flat table at Hancock's in Sacramento. It is a corduroy print. The lining is a mystery fabric I had around.
Pattern Notes: I made these up just like the instructions indicated, except that I left off the buttons on the He-man vest. I still might add them- was not sure if I wanted them or not so left them off. I have worn it several times without the buttons and sort of like it like that.

Notes: I am happy with both of these vests and very pleased with the pattern!


My goal list: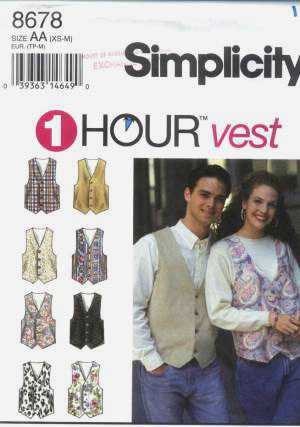 This is the pattern that I used.