My Banner
Date started: 10/27/05
Date finished: 10/28/05
Project for: Jack and Cynthia

My friend Jack has a friend at work that printed the banners. He gave me two- one large and one small and wanted them made up into a nice banner. So this is what I did! I made two of these. The pictures are both of the smaller banner. I hope to post a picture of the larger banner soon.
Fabric: Duck Cloth- off white/ecru in color
I used fancy trim on the tabs and around the banner. Also I used some Celtic Knot buttons I found at Hancock Fabrics at the top on each tab. The buttons were "shank" buttons so I cut the shanks off and glued them in place.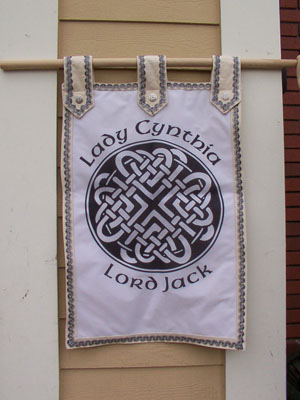 This is the smaller banner.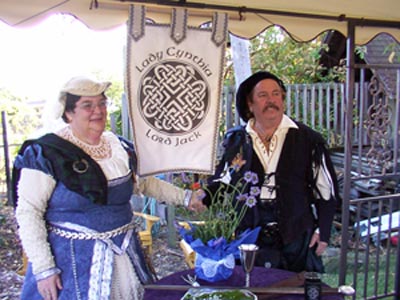 Here is Lady Cynthia and Lord Jack posing with the small banner.

Sewing Scrapbook | CamoFish Home |