|
News
|
History
| About Bug |

| Other Links |
---
Welcome to Bug's Page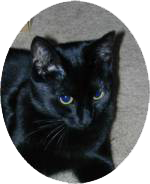 Bug has been voted 5 paws by 7 voters on her Catster page! We are very happy! I didn't expect her to be so popular because she is an average black cat- there are millions of them around. I think she is very special and there is no cat in the world like her... but I am her Mom so I am supposed to feel that way.
We got Bug in January of 2003. We both wanted a cat and since I don't show cats like I do dogs, I wanted to get a rescue kitty. So we went to Petco when they had
Furry Friends Rescue
with cats for adoption.
Bug was the cat we picked. They had a lot of black cats that day. Bug stood out because she had one white whisker. She soon lost that after she came home. I have found many of her whiskers but I never did find the white one. I suppose it got sucked up in the vacuum quite some time ago.
Bug also was the first cat that didn't act completely afraid of Starr, our dog, who went with us to help choose her new sibling. So Bug came home with us.
The first three days she hid and she hid well. I have a lot of experience with animals and told Jason to just leave her alone and ignore her if he saw her. But it was so hard for him- he wanted to make friends with her and didn't realize that she would become friendly eventually. She just needed time to get to know this was her home and we were her family now.
So after her three days of hiding she finally came out and got to know us. We soon found out she had ringworm- you can read about her episode with Ringworm in Bug's
Ringworm Scrapbook Page.