Sewing Room
|
Organizing
|
Projects
|
Scrapbook
|
Contests
---
News
January is my usual time for oranizing and cleaning my sewing/art/craft room. I got a new art table for Christmas so I really want to set it up somewhere. I need to get control of my fabric stash- it is out of control! And my patterns are now unorganized again as well. I need to go through them, enter them into my database and get them all in my books. I also want to set up some area to take pictures of my projects. This past Christmas I was very disappointed in the fact that I really had no place to take pictures of my projects!

Sewing Goals for 2006:

Work on shirt making skills
Draft Jason a Shirt Pattern
News
I finally got a Husqvarna Rose! I am so excited about this machine. I made Jason a new polar fleece robe. I embroidered Tux, the Linux Penguin on one side and his name on the other.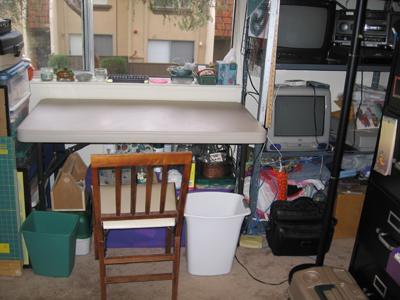 My boyfriend and I live in a two bedroom townhouse in the Bay Area of California. I currently have a whole room that is dedicated to my crafts and sewing. (Well mostly)
I have four machines:

Viking 230
White 1766
White Overlock 834D
Husqvarna Rose
I have a table where I sew but if I am working on other crafts (scrapbooking or rubber stamping) I can put away the sewing machines and use the table.
Patterns
My system for organizing patterns works like this: I photocopy the pattern envelope both front and back (double-sided copy). Then I put these in a three-ring binder organized by categories. I then put the pattern in purchased pattern boxes organized by number. If two companies have the same number for different patterns I then file them alphabetically by company.
I also have a database that I am currently working on that I enter all my patterns into. I hope to have it available soon!
Fabric
I don't have a good system for organizing fabrics. I am working on a notebook. I plan to sort them by content (if known) then cut a swatch and put staple it to a card and put this card in a sleeve made for collector cards. There are card holder sleeves to fit in 3-ring binders with 9 card slots per page. I will put the fiber content, yardage, price, and notes on the card.
Draft: Hip Pack
I have drafted the pattern but have to make a prototype to test the design.
Shirt Patterns
I am drafting shirt patterns for myself, Jason, and two of my friends. I made a custom shirt pattern for my Dad- and the shirt I made for him fits perfectly! To see them Click Here!
Bonfit
I have the Bodice and Skirt patterner and will be playing around with it. I hope it works out to be as useful as it sounds!
I just found the Pants Patterner at the thrift shop for $5!! What a find!
Scrubs for Grooming Dog
I really need something to groom my dog in. I am thinking about using a pattern for scrubs and doing it up in rip-stop nylon since it would be fairly water resistant and also would not attract the dog hair like everything else I have does.
Simplicity 9210
I made one of this pattern already. I want to do one with the short eased sleeves. Goal: To practice David Coffin's technique for making the flat-felled seam on the armscye and also practice using my narrow hem foot and my felling foot.
Tablecloths, Placemats and Napkins
I have a homespun purple/green small plaid that I am going to make one tablecloth out of. I have a "grapes" theme going so I found some fabric with grapes on them I want to make placemats out of and I will make napkins to match. The placemats can have two sides so could match two different tablecloths.

---

Old Projects

Locker Organizer 2-02


I designed a locker organizer to fit in a very tall, narrow locker. This organizer measures 50.5 inches tall by 4.5 inches wide and is designed to fit inside the door. I designed two organizers each with an optional pocket, making four different options for the organizer.