Maneki's Page

Welcome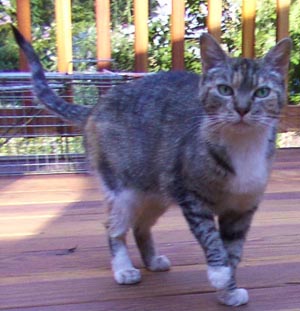 Maneki has a new home and a new name! She is living with Jason's Aunt and Uncle who contributed quite a bit to our fund to help her. They had adopted a cat many years ago when Jason was still a boy. That kitty, named Hives, died a couple of years ago. So I asked them if they were ready to adopt another kitty. They were not sure, but the more then heard about her the more they thought they were ready. She is now living with them and is a very very happy kitty now. She is a very cuddly cat and now has a family to cuddle with. I hope to have some newer pictures of her soon!

About Her Name
Makiko named Maneki after the famous Japanese kitty, Maneki Neko. You can read about the legends here: Maneki Neko Club
Maneki is a perfect name for this cat because she holds her leg up all the time. When the vet looked at her, he said that she had had an injury to her elbow and that she would always limp, but she was fine otherwise. He didn't recommend surgery since she is not in pain from it and seems to do fine as she is.
History
As many of you know, I recently house sat for my mother in Placerville and this kitty was there. Her previous owners refused to get her fixed or give her any health care. When the previous owners moved, they abandoned her and she had her fourth litter of kittens under my Mother's house. While housesitting I fed her and her kittens and spent time with them. They are all really sweet natured kitties. My Mother, sister and I have fallen in love with her and her babies and are determined to help them. We are trying to raise money to cover the veterinary bills so that we can help them find homes.
I am selling healthy homemade dog biscuits ($4.00 for one pound) to help raise money for their vet bills. Why not spoil your special baby and help these special kitties out at the same time?
Sizes available for purchase:

Tiny- 1"
XSM- 1 1/2"
SM- 2 3/4"
MD- 3"
LG- 4"
XLG- 5 1/4"
Super- 7 1/2"
Flavors:
Chicken
San Francisco Sourdough
Vegetarian
Any above flavor can be Wheatfree
To order biscuits or make a donation, please email me.